I've always loved fashion, and I always will.  From trendy mishaps like the Blossom-inspired hats of my tween years, to the time I co-owned and operated Mapel Boutique, fashion has been an important part of my life.  But as my vision continues to deteriorate, I've often wondered how my relationship with fashion will be affected.  Can people still love fashion without sight? After chatting with fashion diva, Joy Ross, I know the answer is absolutely positively YES.  Not only is Joy Ross adorable, but she embodies everything I love about fashion – a strong sense of self expression and effortless style.
"Fashion is not something that exists in dresses only. Fashion is in the sky, in the street, fashion has to do with ideas, the way we live, what is happening." Coco Chanel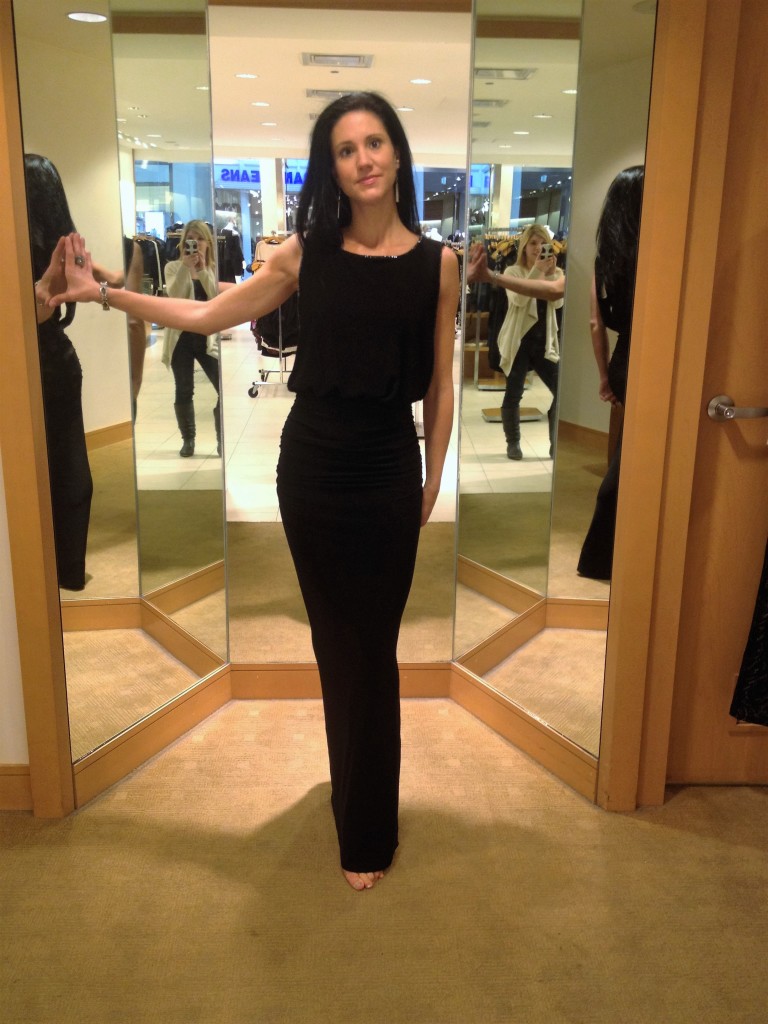 Photo Description: Joy Ross posing in an elegant black maxi dress.
In true fashion magazine style, I designed a Q&A to learn more about my new favorite fashionista, Joy Ross.
Q: How old were you when you first became interested (or should I say OBSESSED) with fashion?
A: From a very young age, I've always loved pretty clothing.  I was especially interested in matching and coordinating everything, even down to the bare necessities!  My sisters thought I was obsessed.  The white tennies that we wore – I had to have them perfectly white all the time.  I would take white shoe polish everyday and paint my tennis shoes bright white because you know, dirty tennies would have ruined the outfit completely.  I definitely would say I have always been a girly girl.  Even my pajamas had to be ruffled nightgowns.  I was the middle child with two sisters who also loved fashion.  Growing up, we were very blessed little girls because we had our granny who lived next-door to us in Mississippi who was an amazing seamstress.  She would sew all of our outfits, so we were able to create whatever look we wanted to achieve.  I had the most beautiful dresses and outfits you could imagine! Some of my most favorite dresses were made from beautiful rich velvet, taffeta, chiffon, and metallic lemay with extra frills of lace, pearls and sequins.   My mom also has such great taste in clothing and fashion and she definitely played a huge role in helping shape my style choices.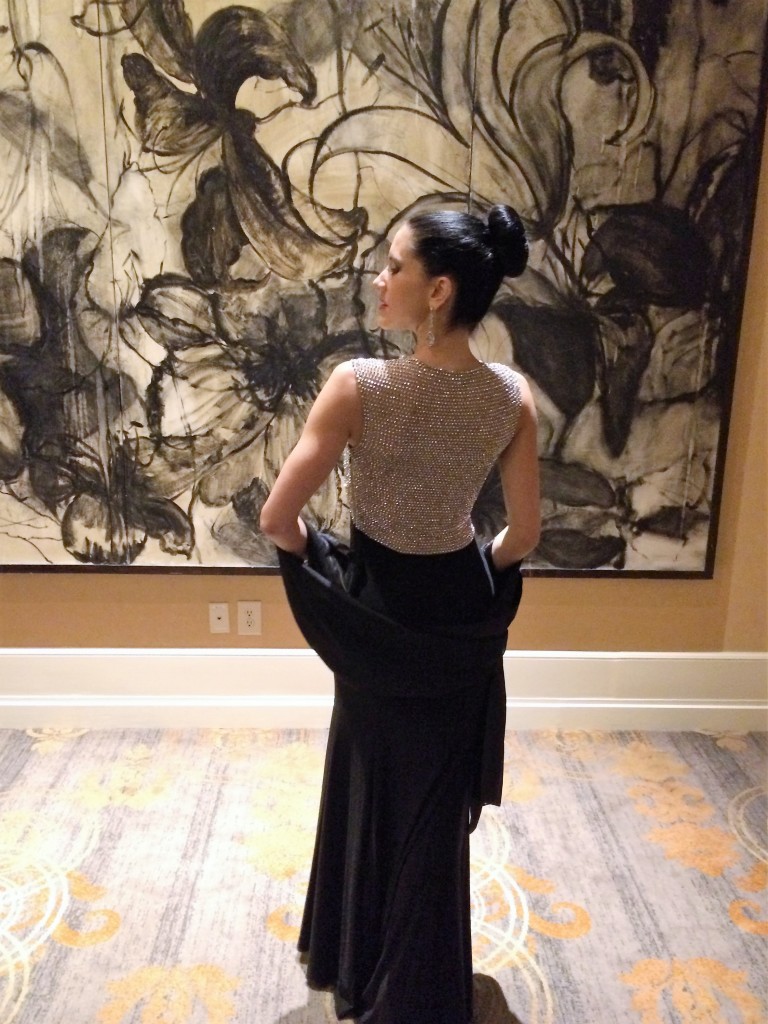 Photo Description: Joy Ross showing off the exquisite silver sequins on the back of her long black elegant dress.
Q: What do you think people admire most about your fashion choices?
A: I've heard people admire that I pay attention to the details.  Even though I can't see, I'm still very focused on tying all parts of a look together – probably a remnant of my earlier obsessions with coordinating.  Even down to the zippers and jewelry, I'll want it all to flow.   It's never been just about the outfit for me, it's been about the whole look – from my hair to my toes.  Even the clothes I throw on first thing in the morning to get my girls ready for school will all coordinate – I'll be in my Uggs, and leggings and Nike pullover with my makeup fully done and my hair pulled into a pristine bun.
Q: Describe your personal style (i.e. sporty, casual, preppy)
A: Polished and classy with an edge – but not stuffy.  Elegant with a bit of sass and lots of bling.  If you could wrap up sophistication with comfort and put a sparkle on it – that's me.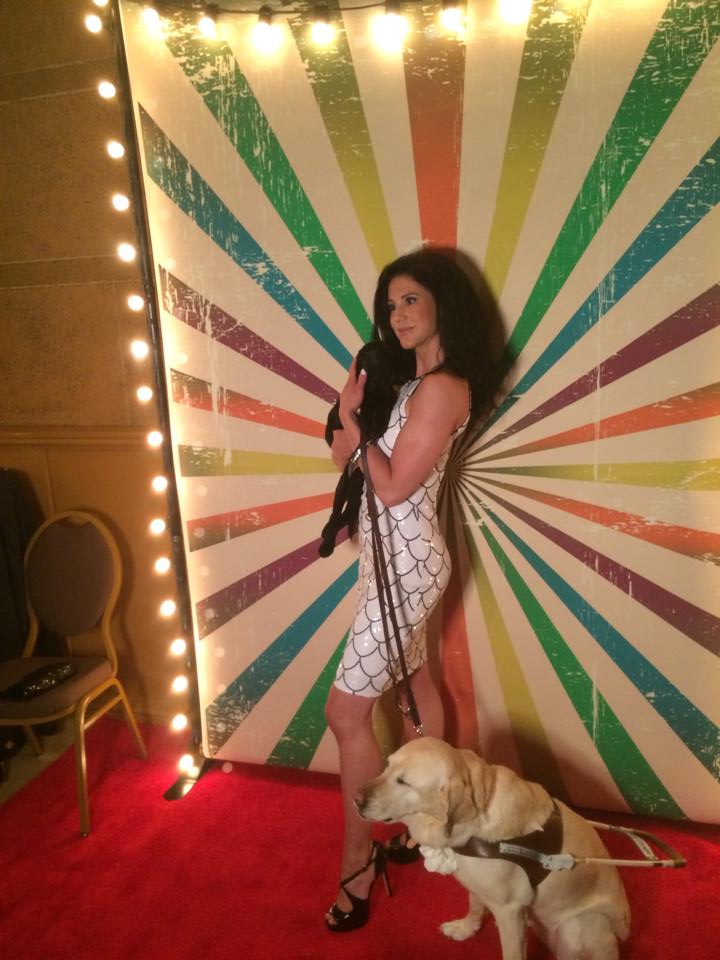 Photo Description: Joy Ross posing for a professional photo shoot complete with a colorful glitzy backdrop surrounded by bright lights.  Joy is wearing a black and white fish net patterned fitted dress. Her guide dog, Antonia, sits patiently near her sexy black peep toe high heels.
Q: What are some of your favorite places to shop and why?
A: Express, Bebe, Buckle  – These places carry a lot of what works for me.  I know the sizes and how they will fit me, and the smaller atmosphere of these stores is helpful to shopping blind.
Q: While you're shopping, what do you find most helpful in a sales associate? Most annoying?
A: One who is friendly, eager and willing to help me find just what I'm looking for, without having an attitude.  An associate needs to be good with describing the details – color names, fabrics and styles –  I need it all communicated in non-traditional ways.   They say I make them work hard, but they enjoy it, because it forces them to become more educated about the details about what they are selling.  I've learned that I have an important part in helping these associates work with someone who is blind by being vocal about what I'm looking for and coming prepared with ideas.  I have found some amazing associates over the years who have become my friends.
Shopping gets annoying when I walk into a store and the associates don't acknowledge my presence, or check in on me in the fitting room.  This is why I like smaller, more intimate stores, because I'm easily spotted and can have a more personal experience.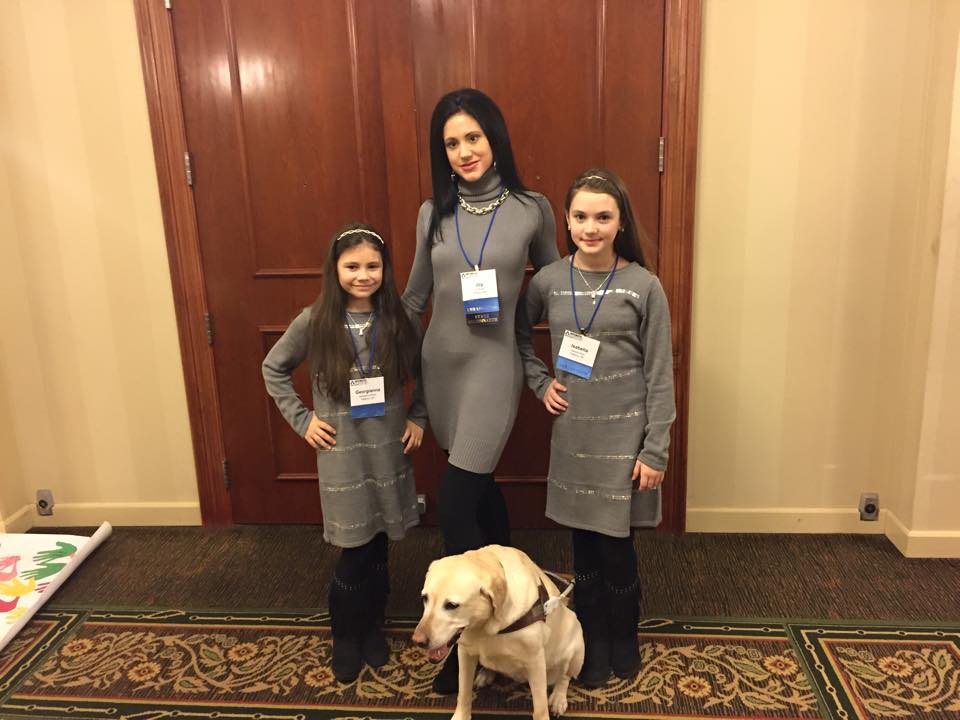 Photo Description: Joy Ross wearing a gray turtleneck fitted shirt dress paired with black leggings, standing in the center of her two beautiful daughters, ages 10 and 13.  The girls show their flair for fashion in matching grey shirt dresses with soft white horizontal stripes paired with black leggings. Guide dog, Antonia, sits obediently in front of the 3 beauties.
Q: What advice do you have for readers who want to be fashionable, but aren't sure where to start? 
A: A good pair of boots, a pair of nice leggings, a long tunic, and jackets to layer.  A necklace also, can add an element of style.  For me, since I can't see colors to match, black is my go to choice.   It is a great staple – always sophisticated and a perfect base.  You just can't go wrong with black
Q: Looking ahead to the holidays, what is your favorite trend for this holiday season?
A: Duster Coats and Cardigans – They are great for layering and you can add jewelry to dress it up.  And of course metallic and sequins for a festive occasion.
Q: What other fashion advice would you like to give our readers?
A: At the end of the day, yes, you want to look your best, but you just need to remember to stay true to yourself.  I can't see all the current fashion trends, so I'm not constantly seeing styles that "fit in."  You know the best thing about me seeing fashion through my blind eyes? I'm not always comparing myself to others. I dress in what makes me feel good and confident and true to who I am.  I believe having beautiful confidence and love for yourself is the number one key to looking your best.      
After reading Joy's fashion advice, I instantly wanted to go shopping with her.  Since she's in the Portland area and I'm in Washington State, we'll have to plan our girly shopping day for the spring.  Meanwhile. I loved this video of how Joy goes shopping with her guide dog.
(Visited 1,055 times, 1 visits today)