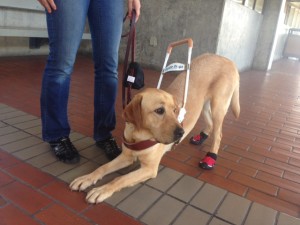 I procrastinated getting a guide dog for about 2 years, turning down 3 different training dates offered to me after being accepted to the program, all because of fear.
My fears? (in order)
Poop. Allergies. Dog Hair. Drool.
None of these 4 excuses that I spent 730 days fixating on ended up being issues.
Ironically, my main concern during training ended up being stress over my lab for failing to cover me in slobbery kisses while wrapping her dog-hair-dander-filled body around me.  Oh, and I actually WANT her to poop, praising her excitedly when she does.
That's what happens when an over-thinker becomes a guide dog user.
I spent the first week of training reveling in it all, loving the incredible food they serve at GDB, appreciating the fact that I was progressing in the program so well and that not a single allergy symptom appeared after hours and hours of being with tons of dogs and Roja sleeping in the crate right next to my bed. I reveled at the fact that I was not only given this gorgeous dog who I wasn't allergic to, but also that she was guiding me like a rock star.
Oh, and I was also feeling extremely thankful that Roja is a gentle food taker. One of my Chicago field rep's concern during my initial interview and evaluation over a year ago was that I wasn't comfortable feeding kibble from my hand right into the training dog's mouth. I was nervous and kept yanking my hand away, dropping the treat, which is very problematic for training since you're feeding treats at every single corner in the beginning. Thankfully, Roja gently laps up the kibble in one swift swoop, never once grazing my hand with her teeth, and I only drop about one treat per day!
So what happened to my gratitude for this beautiful, gentle dog during week 2 that I felt so immensely the first few days?
Apparently the fastest way to turn gratitude into ungrateful grumbling is to overthink that which is. And the fastest way to re-enter the realm of gratitude is to accept what is. It's one of those lessons that keeps repeating itself in my life, cycling over and over again. I think I'm getting the hint.
My over-thinking really affected us as a team at the beginning of this week. My energy, attitude and focus just wasn't there the first couple days, and as a result, neither was Roja's. I had to crate her while practicing obstacle clearances wearing sleep shades, something I had prided myself on not having to do during week one. I began to inwardly doubt our success as a team. It wasn't until a good friend who recently moved away texted me to ask how I was doing, kindly reminded me to have faith that Roja and I are deeply connected, that I changed my train of thought. It wasn't Roja who needed to change; it was my thinking.
Roja is slowly teaching me to accept things— life and people and animals— as they are.
Roja's personality is cautious and calm, similar to the way my children are. My kids are super cuddly, though, so at first I thought Roja didn't fit the snuggle bill, but now when I return from leaving her in our room for a few minutes, I've come to expect her giant dog hugs, where she bends her head down and just leans into me.  This is the most perfect sign of affection for me because it's not a slobbery, messy one.
The idea of a dog jumping all over me and licking my face made me cringe prior to coming to GDB, but now Roja actually does give me a quick lick on the chin once in awhile, and I think it's adorable. In fact, I eat it up, my high-pitched cooing voice kicking in, spouting off all kinds of ridiculous pet names for my sweet girly-girl, puppy-pup RoRo. And I listen to myself, wondering who this crazy dog-person is.
I also don't know how I've transformed from someone who can barely figure out how to adjust the straps on my daughter's carseat to someone who is handling all kinds of clips and straps successfully. I typically suck at anything having to do with straps, buckles, or tie mechanisms of any kind (which really takes the fun out of zip-lining!)  So, again, the learning curve with harnessing a dog, switching from short leash to long leash, high collar, fitting general leader head collars onto Roja's face at times, unhooking and rehooking the harness handle in vehicles, clipping her leash to my carabiner, managing the clicker around my wrist during clicker training, and so on, you'd think I'd have given up by now. But working with instructors who actually know how to explain and demonstrate these physical mechanisms to people with vision loss makes a huge difference.
By mid-week this week, I finally understood that Roja is already well trained; it's me as her handler who is being trained to handle her properly. One of my classmates who is here getting his 3rd dog told me that when his first trainer gave him his first guide dog, he said, "I am giving you this dog who is like a world-class trained athlete, and you are going to spend the next 8 years slowly making her sub-par. I'm here to train you how to mess her up as slowly as possible."
Even though this made me laugh because it's not the most encouraging way of putting it, I can see his point. I can do my best to be consistent with Roja and not "mess her up", but I will never do as well as the professional dog trainers. I'm hoping our bond will compensate for small training errors on my part.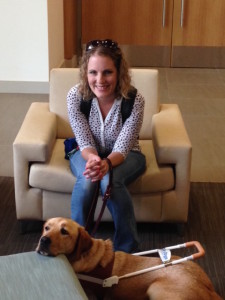 There's one more part of week 2 that I can't leave out… getting run over. Or, almost. Wednesday was a wacky traffic test day, in which our training supervisor basically drove all over, hunting me and my classmates down on our routes, trying to run us over in various parking lots and across several streets. We never knew where he'd show up, gunning his engine right toward us, sometimes less than a foot from us, sometimes simply blocking our path. We had to simply trust that our dogs would respond appropriately, steering us out of the way.
And do you know how I got through that day without having an anxiety attack?
By not over-thinking a damn thing!
Roja is a world-class trained athlete, connected to me in ways I've seen and felt and also in ways not yet known to me.
What's not to trust?
(Visited 221 times, 1 visits today)