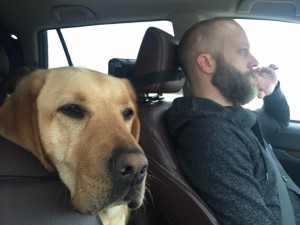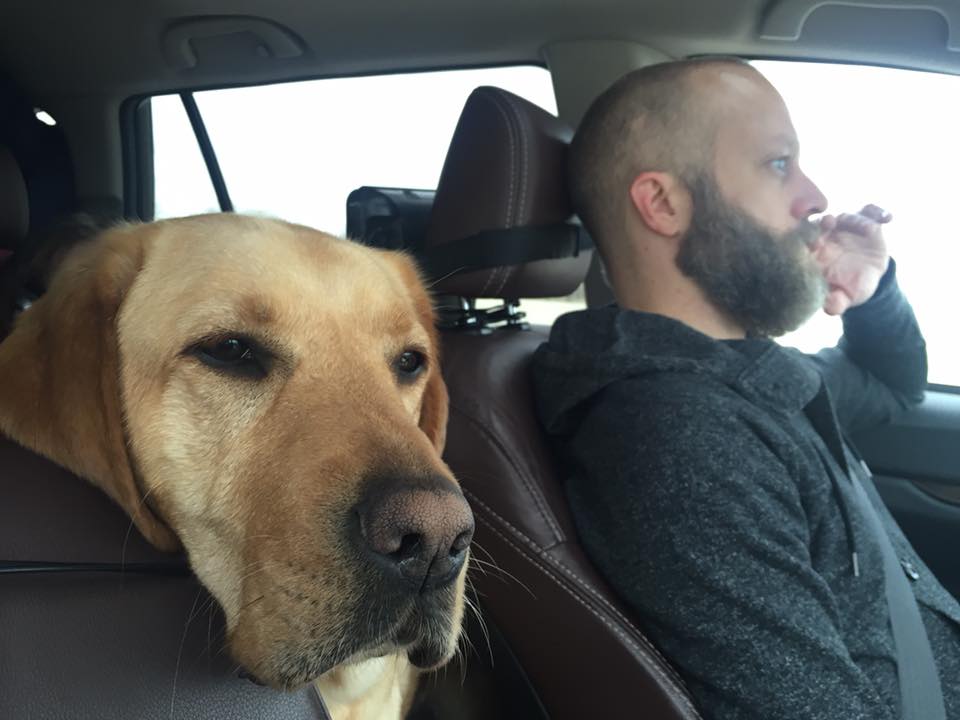 Like most guide dogs, Roja does great on car rides, though our family's recent 4-day excursion from Illinois to California really put us to the test.  As we enter spring and summer and the season of road trips, I thought I'd pass along some travel tips I learned along the way!
1. Prep and pack well.  Lay the essentials out the night before you leave, to ensure you don't forget any of your precious pup's items.  Be sure to include:  food, dog bowls (collapsible travel bowls if you're tight on car space), dog bed/rug/crate (depending on preference and space, harness, leash, grooming kit for teeth and hair, small toy or bone, gentle leader, a tie down, and poop bags.  You may also want to pack special high-reward treats if you foresee transition issues.  And if you don't already have bottled water packed for yourself, make sure to at least pack some for your pup.  You can certainly get water at rest stops, but if you're trying to make good time on the road, the stops might be few and far between.
I did remember to pack most of Roja's items but I made the mistake of not condensing them to one bag, which made it difficult to locate items, such as the grooming kit, when I needed them.
2. Avoid areas that may contain ticks and fleas. One of my friend's pet dogs contracted Lyme disease from a tick at a rest area en route to California a few years ago.  As you encounter new terrain, especially at rest stops in rural or wooded areas, ticks can be a concern.  The risk of pesky fleas or even Lyme diseases may be higher than you're used to in your area.  If your  dog is  pretty good at relieving on pavement, that's your best bet.  If they prefer grass or shrubs, try to stay close to the building and in lower, mowed grass.
3. Be wary of shady gas stations in the middle of nowhere. We learned this in the middle of New Mexico.  As we started to exit our Subaru, a stray dog came running up to Roja, and since my husband wasn't sure whether this dog would be friendly with Roja (or was even vaccinated!), he quickly put Roja back in the car, closing her tail in the door.  Since Roja is so quiet, we didn't even know it was stuck until our 6-year-old, who was next to Roja, started sobbing.  "Mom! Rojas tail is in the door!" Since my husband was using the restroom, I opened the door to free her tail, which was just enough time for the mangy stray to jump in our car.  I tried to lift the filthy dog out, but it wriggled out of my grasp.  I opened the door, and both dogs ran out.  I finally reigned Roja back in and then used the bathroom, which had the distinct smell of a barnyard.  Oh, and the gas pumped so slow at this station that it had only reached $5.00 worth of guess in the 20 minutes we were there!  And that's what you may encounter in rural New Mexico!
4. Doggie breath mints and water should be within arm's reach at all times. Roja doesn't typically have very bad breath, at least not like some of my friends' dogs.  But the combination of anxiety over traveling and the disruption of regular feeding/water schedule must produce some extra toxins because her breath was rancid!  Roja was directly behind me, at my daughters' feet, and I could always tell when her velvety head had poked up between our seats to say hello, as the stench of dead fish wafted over the center console.  Unfortunately, I did not pack any greenies. I did brush her teeth one night at the hotel, which helped, but I wished I had something to just pop in her mouth in the car!
By day two, I learned to have her water dish with a bottle of water at my feet so that I could put water on the console at a moment's notice, as she didn't always want to drink at rest stops but then would end up panting between stops.  Originally, we were keeping her dog bowl in the very back behind the suitcases, which was impossible to access unless we were stopped.
Hope these are helpful!  Happy travels!

(Visited 243 times, 1 visits today)