This slideshow requires JavaScript.
Joy & Jenelle
We are identical twin sisters who have grown up with retinitis pigmentosa RP. Although we look a lot alike on the outside and share the same challenges of vision loss, we often have different perspectives on the disease and each deal with it in our own way.
We created doublevisionblog to show that there is no right way to go blind. We hope that in sharing our perspectives and personal experiences, we can encourage our readers in their own journeys through life.
A little background on us individually:
Jenelle (the oldest by 4 minutes): I live in a small yet vibrant mountain town in Washington State.  I love the outdoors – hiking, skiing, paddle boarding and playing in the river with my two young children, Cora and Benny.  I am involved in my local community as a crisis line advocate, Vice President of PTO at my daughter's school, and work as a grant-writing consultant.  My attempts to stay grounded amidst the chaos of daily life include yoga, reading, and quality time with friends and family.
Joy: I am a storyteller at heart and love observing the world around me.  Having just moved from Chicago to Orange County, CA, there are plenty of new scenes to explore! A former English teacher and social worker, I now spend my days teaching my 2 girls, Lucy and Elli.  In additional to working as a freelance writer and speaker, I enjoy reading memoirs and sci-fi novels, hiking, relaxing at the beach, listening to podcasts and music,  and practicing yoga.  I also try to laugh for at least 15 minutes a day, for both the fun of it and the added health benefits!
Though we live many miles apart, we talk almost daily and hope that this blog will help bridge the gap in miles.
About RP
Retinitis Pigmentosa (RP) is the name given to a group of hereditary diseases of the retina of the eye. The retina is located at the back of the eye and acts like film in a camera, receiving and processing all of the pictures that come into view. The retina is a delicate layer of cells that pick up the pictures and deliver them to the brain. In the human retina there are two types of light sensitive cells-rods and cones. Cone cells are located in the center of the retina, the Macula, and are used to see color and precise objects like small print. Rod cells are much more numerous and are necessary for peripheral and night vision. There are about 120 million rods in the human eye, mostly at the outer edge of the retina. In a person with RP, a breakdown has occurred in the function of the rods.
Since the retina is so complex, there are many forms of RP, and as a result, many different symptoms. But the basic deficiencies in all people with RP are a loss of peripheral vision, often called "tunnel vision", and poor night vision, often referred to as "night blindness". RP is a degenerative disease, which means that rod cells will continue to dysfunction over time, causing the further loss of peripheral vision but eventually entering the central vision, leading to total blindness. This happens at various times depending on the person, sometimes occurring in young children but many times not until middle-age or beyond. Some people may be diagnosed with RP as a child if their vision difficulties are apparent, and others may not be diagnosed until a much later age.
What We See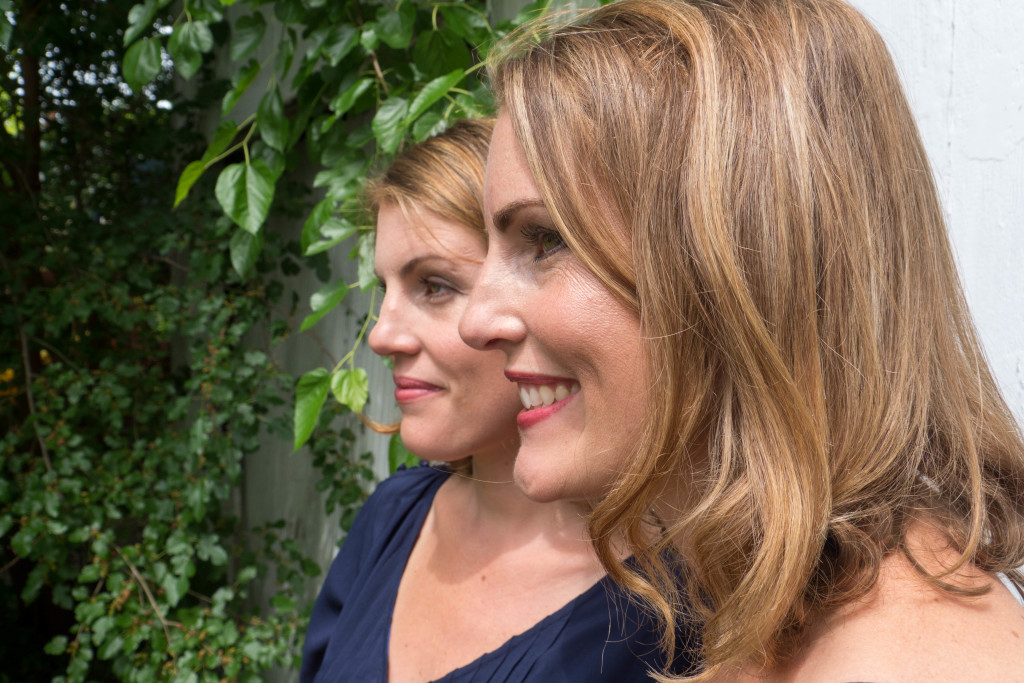 Since RP is a genetic disorder; our parents both unknowingly carried the gene, which left us with a 25% chance of having RP. As chances often have their way, we were diagnosed with RP when we were 5 years old, at which time we had already lost a significant portion of our peripheral vision. Since vision loss occurs at such a slow pace, people with RP often adjust to the vision loss in such a way that they do not notice the changes at first. So, while it's hard to tell how much vision we've lost since we were first diagnosed, our opthamologist visits have confirmed that, while our fields have gotten slightly worse over time, our vision has been fairly stable.
Our visual fields are both at around 4-5 degrees (out of 180), so it's kind of like looking through a tiny straw, making things such as driving and playing sports nearly impossible. Our night blindness and poor depth perception make it pretty difficult to walk in dim-lit restaurants, outside at night, etc.  We have been able to "hang on" to our central vision in the middle of that "straw", however, so we are able to read large print when the contrast is high enough.  We also have held onto our side vision, so it's like looking at a puzzle where the frame of the puzzle is put together, along with a tiny piece at the center of the puzzle, but there are various pieces missing in between.  These "missing pieces" don't look black or like anything really – they just aren't there.  Some people also call this "donut" vision.
Our favorite anonymous quote describes our vision in a nutshell:  "RP is seeing a piece of paper on the floor across the room and then tripping over an elephant on the way to pick it up!"
(Visited 1,536 times, 1 visits today)